Donations Top Last Year and Donors include Wells Fargo, Mattel, and Individual Angels
Los Angeles, CA – December 18, 2013:  The Adopt-A-Family Holiday Program was developed by Habitat for Humanity of Greater Los Angeles (HFH GLA) to help provide support to families who recently moved into their new Habitat home or received home repair services due to a financial need. Despite the fact that they now have a home that is safe, sustainable, and affordable, they may still lack the resources for the "extras" and face challenges on a daily basis. More than 50% of the families Habitat for Humanity of Greater Los Angeles serves earn less than 50% of the County's area median income. For a family of four, that equates to $41,000 annually.  This year's participants consisted of forty partner families including 80 children, senior citizens, disabled, veteran and military families.
The Adopt-A-Family Holiday Program matches HFH GLA Partner Families with an individual or group donor who sponsors a holiday basket filled with treats, gift cards, and toys for their children. Without the benefit of an adoption, these families would be faced with a very grim holiday season. Donors were invited to attend a special holiday party with the families where they could present the gifts personally and meet each family member.
"Our partner families become our family and the Adopt-A-Family program is a great way for all of us to help give them what they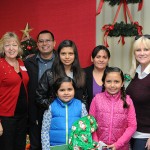 need to make this a special holiday," said Erin Rank, president and CEO, HFH GLA.  "It's moving to see our team rally around this program, from our staff and board members to our customers in the ReStore, the support has been overwhelming. The smiles on the faces of our families say it all, it is going to be a happy holiday!"
More than $11,000 was raised, exceeding this year's goal, as well as giving the organization a head start on the 2014 Adopt-A-Family fundraising. Gift-in-kind donations were received from Dermalogica, NYX Cosmetics, and Mattel, and Wells Fargo made a generous donation of $2,500, thanks to the efforts of HFH GLA Board Member Linda Russell.
"It gives Wells Fargo great pride to partner with Habitat for Humanity of Greater Los Angeles during the season of giving to support the Adopt-A-Family Holiday Program," said Wells Fargo South Coast Area President Linda Russell. "Contributing to the Adopt-A-Family Holiday Program provided us the unique and ever-so humbling opportunity to support and bring joy to 10 hardworking families in the local area this holiday season. Wells Fargo is grateful for the opportunity to pay-it-forward and join in and be part of a mission that truly brings magical moments and memories to so many people."
HFH GLA will continue accepting donations until December 20. 2013, which will go toward the 2014 Adopt-A-Family Holiday program. Click HERE to make a donation.
View all photos from the Adopt-A-Family holiday party HERE.
About Habitat for Humanity of Greater Los Angeles
Habitat for Humanity of Greater Los Angeles (HFH GLA) strives to eliminate substandard housing through advocacy, education and partnership with families and individuals in need to build decent, sustainable and affordable housing. Since 1990, HFH GLA has built and renovated more than 900 homes locally and worldwide, transforming the lives of hundreds of individuals. HFH GLA is a GuideStar® Valued Partner and has achieved the coveted Charity Navigator 4-Star rating awarded to non-profits for sound fiscal management and commitment to accountability and transparency. For more information, please visit http://www.habitatla.org or call 310-323-4663. Visit our blog at http://buildingagreaterla.blogspot.com.
# # #
Media Contacts:
Jo-An Turman
HFH GLA
424-246-3175
jturman@habitatla.org
Angela Moore
310-429-8868
angela@starfish-pr.com