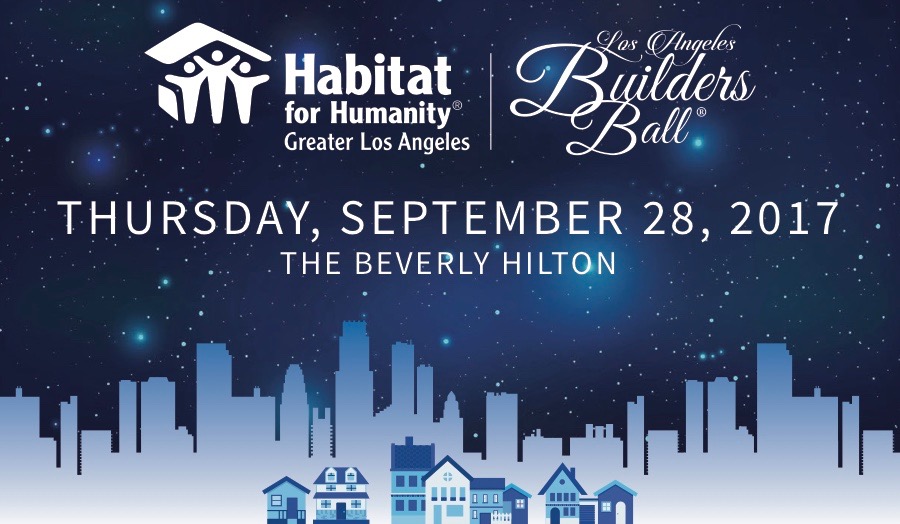 Annual Event Honors Change Makers in Building & Real Estate Industries
Los Angeles, CA – July 25, 2017: Habitat for Humanity of Greater Los Angeles (Habitat LA) will give top honors to Morley Builders at its 2017 Los Angeles Builders Ball® to be held Thursday, September 28 at the historic Beverly Hilton Hotel. Morley Builders, one of the preeminent leaders in the construction industry, will receive the Builder of the Year award for their commitment to building innovative, high-quality residential and commercial projects with integrity, pride and dignity. Morley Builders joins two other notable honorees, Luc Robitaille (Foundation Builder award recipient) and "Sugar" Ray Leonard (Dream Builder award recipient).
Each year, Habitat LA honors outstanding individuals and companies that are committed to revitalizing and transforming the landscape of Los Angeles. In addition to recognizing Habitat LA's counterparts in the building and real estate industries, this event will also raise funds and awareness for the nonprofit's Building a Greater Los Angeles campaign to help empower low-income families by building strength and stability through homeownership.
"It's an honor to recognize Morley Builders as our Builder of the Year for their indelible contributions to the landscape

of Los Angeles. Their commitment goes beyond building structures; they build holistic communities," said Erin Rank, President and CEO, Habitat LA. "Their commitment to providing affordable housing is shown through their award winning projects including Casa Dominguez, Selma Community Housing, and Crest Apartments for Homeless Veterans. Morley has also been a supporter of Habitat's work through donations and volunteer building teams. We are proud to partner with Morley in Building a Greater Los Angeles."
"Morley Builders is honored to receive this recognition from Habitat for Humanity of Greater Los Angeles." said Charlie Muttillo, President, Morley Builders. "As we celebrate our 70th Anniversary, giving back to the community has been an important part of who we are, of our Morley culture. We are proud to support Habitat for Humanity's mission."
The 2017 Los Angeles Builders Ball® awards and honorees are:
Builder of the Year, which will be presented to Morley Builders, honors a preeminent residential or commercial builder or developer in Los Angeles whose contributions demonstrate creativity and innovation.
Foundation Builder, which will be presented to The Los Angeles Kings' Luc Robitaille, honors an outstanding organization or individual that has made a transformational impact through advocacy work, a significant contribution to neighborhood investment, leadership in spearheading intentional change in communities and/or a lasting legacy of economic growth.
Dream Builder, which will be presented to "Sugar" Ray Leonard, honors outstanding individual(s) who have distinguished themselves through a commitment to community revitalization and investment.
Past honorees include Earvin "Magic" Johnson, Quincy Jones, Arnold Schwarzenegger, Maria Shriver, Mauricio Umansky, Delta Air Lines, Bank of America, Trammell Crow Company and Bernards.
Sponsorship opportunities and tickets are still available through our website: http://bit.ly/LosAngelesBuildersBall2017. For questions regarding sponsorship, please contact Helen Dosta, Director of Development at hdosta@habitatla.org or (424) 246-3653.
Habitat LA has built, renovated or repaired nearly 800 homes locally, helping to transform the lives of more than 4,000 Angelenos. By 2020, Habitat LA has a goal to invest $100 million into revitalizing neighborhoods and increasing access to affordable homeownership and home repair opportunities. This investment will benefit the local economy by building strong and stable homes in partnership with families, individuals, volunteers, municipalities and donors, which will bring strength and stability to local communities throughout greater Los Angeles.
2017 Los Angeles Builders Ball® Committee:
Co-Chair, Raul Salinas, AlvaradoSmith
Co-Chair, Maria Salinas, ProAmerica Bank
Michele Blay Sedgwick
Connie Calderon, AlvaradoSmith
Terri Haack, Terranea Resort
Lisa Collins-Nash, Waste Management
Brad Cox, Trammell Crow Company
Lalo Diaz Travers, Cresa
Michael Flad, City of South Gate
Carl Jordan, U.S. Bank
John Manganiello, Bank of America Merrill Lynch
Michelle Meghrouni, Southern California Gas Company
Jesse Nunez, Los Angeles Dodgers
Anthony Salcido, Toyota Motor Sales, USA, Inc.
Araceli Villegas, Ringstar Sports
 
About Habitat for Humanity of Greater Los Angeles
Habitat for Humanity of Greater Los Angeles (Habitat LA) brings people together to build homes, communities and hope. As the top nonprofit homebuilder in the greater Los Angeles area with five consecutive Charity Navigator 4-Star ratings, Habitat LA has partnered with volunteers, donors and Habitat homeowners to build, renovate and repair more than 1,300 homes locally and worldwide since 1990. The lives of thousands of individuals have been transformed as a result of having a decent and affordable place to call home. Habitat homeowners help build their own homes and pay an affordable mortgage. By supporting Habitat LA through volunteerism, donations and supporting affordable housing, everyone can help families achieve the stability and self-reliance they need to build a better future. To learn more, visit www.habitatla.org.
# # #
Contacts:
Yvonne Lara
Habitat LA
310-508-5783
ylara@habitatla.org
Angela Moore
Starfish P.R.
310-429-8868
angela@starfish-pr.com